Description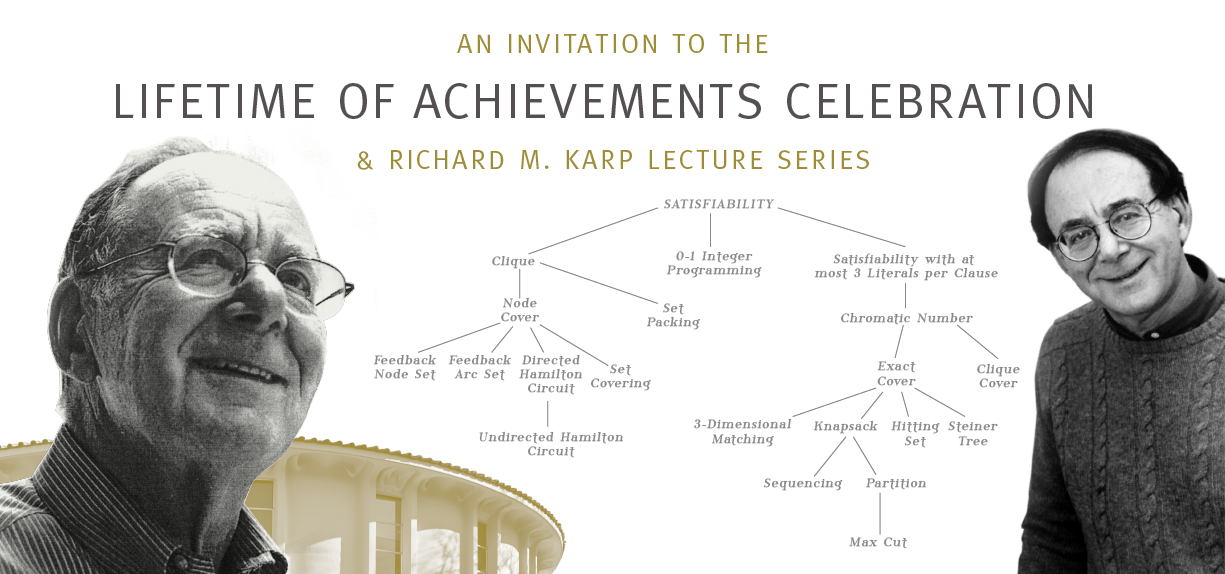 The Simons Institute is pleased to announce the creation of the Richard M. Karp Distinguished Lectures, which celebrate the role of Simons Institute Founding Director Dick Karp in establishing the field of theoretical computer science, formulating its central problems, and contributing stunning results in the areas of computational complexity and algorithms. Formerly known as the Simons Institute Open Lectures, the series features visionary leaders in the field of theoretical computer science, and is geared toward a broad scientific audience.
This celebratory launch of the series will offer us an opportunity to toast Dick's lifetime of achievements. The event will include short talks by a number of Dick's collaborators, and the unveiling of a museum-style display in Calvin Lab celebrating Dick's contributions to the foundations of computing.

Speakers: Sanjeev Arora, Faith Ellen, Dan Gusfield, Dorit Hochbaum, Russell Impagliazzo, Ravi Kannan, Don Knuth, Mike Luby, Antony Ng, Prabhakar Raghavan, Scott Shenker, Robert Tarjan, Vijay Vazirani, and Dick Karp.

Tuesday, September 3
Calvin Lab, UC Berkeley 

4:00 p.m.         Refreshments
4:30 p.m.         Program
                       
Reception to follow

Registration is required for this event, and seating is limited. Register to reserve a seat.
The Institute gratefully acknowledges the many contributors to the Richard M. Karp Fund. For any questions, please contact Senior Development Director Amy Ambrose at amyambrose [at] berkeley.edu or at 510.664.5000.
All scheduled dates:
Upcoming
No Upcoming activities yet